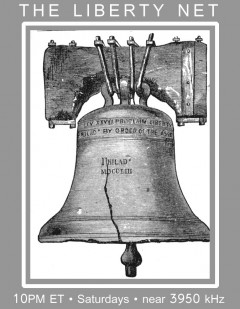 by Kevin Strom, WB4AIO
IONOSPHERIC PROPAGATION was wildly inconsistent this week and there was some receiver overload from a nearby CW contester, but the weekly Liberty Net current events discussion was as free-spirited and informative as always. The jammers that plagued the Net last week, probably disappointed by their inability to disrupt the proceedings, seem to have given up. Here are a just a few of the many topics brought up on the latest Liberty Net:
Listen to or download this week's Liberty Net
• The tragic intentional plane crash by Andrew Stack, a victim of the IRS, is just the tip of the iceberg — many good, hard-working, honest Americans have committed suicide because of abuse by the IRS. There are hundreds of other, more honest, less intrusive ways of financing needed public functions. It's time to abolish the income tax. (22 minutes)
• What was the motivation of the Ohio man who, besieged by banks and creditors and tax collectors, decided to bulldoze his own beautiful house? (37 minutes)
• With the massive infusion of created "money," will the American economy experience inflation higher than the 16% that some are predicting? (45 minutes)
• There's no need for cable or satellite pay television now that the Web has sites like justin.tv (52 minutes)
• Will Tea Party enthusiasts reject the establishment "conservatives" (like Dick Armey and John McCain) who are attempting to muscle their way into control of that grassroots liberty movement? (59 minutes)
• Will commissars from the European Union now be dictating new taxes and laws for Greeks — effectively taking away their sovereignty? (1 hour 22 minutes)
• Why was George Soros badmouthing investment in gold at the very same time he was buying it? (1 hour 32 minutes)
• Many of the nicest people on amateur radio are those who operate in the amplitude modulation (AM) mode. (1 hour 35 minutes)
• No one could have predicted that East Germany's once all-powerful secret police organization, the Stasi, could have been overthrown in a few hours by an aroused populace — but it was. Will the same things happen to the modern American versions of the Stasi, the IRS and other branches of the regime in Washington? (2 hours 10 minutes)
• The Washington regime is telling Social Security retirees that the inflation rate is now negative, so no Cost of Living Adjustment (COLA) will be given to them this year. But at the very same time Congress granted itself a 9% COLA! (2 hours 31 minutes)
• Was former Congressman Jim Traficant railroaded into federal prison on false charges because he was telling the truth, as was Liberty Net participant Kevin Strom? He can now tell his own story on the radio and the Internet. (3 hours 10 minutes)
• The reign of Jack Welch at GE was not at all like it has been presented to the public; there were many shady practices and insider deals that hurt both shareholders and the American public. (4 hours 30 minutes)
This week's audio file size is about 114 MB, with a total length of 5 hours 34 minutes.
The Liberty Net is one of the longest-running nets in amateur radio history, and is certainly the most exciting discussion net in existence. If you're an amateur operator, feel free to join in — and, license or not, join in on N2SAG's live chat during Net hours.
Remember that you can receive the Liberty Net on the nearest clear frequency to 3950 kHz every Saturday night at 10PM Eastern Time, or listen live on the Internet via N2SAG or N2IRJ, or listen at your leisure — on your computer or mp3 player — via the downloadable audio files posted here at https://3950.net every week.
Once again, thanks to W1WCR for his superb work as Net Control Station, and to N2IRJ for his excellent receiving and recording efforts.
Listen to or download this week's Liberty Net