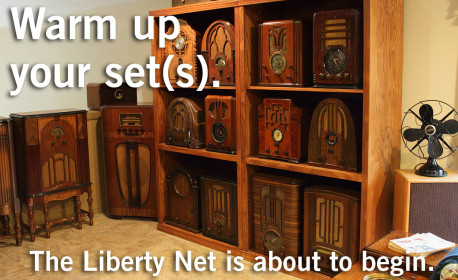 by Kevin Strom, WB4AIO
IF YOU'D LIKE to join our Liberty Net discussion room — which can be found at https://3950.net/live — all you have to do is send a note to me at https://3950.net/contact and tell me what user name you'd like to use in the room. I'll write back, usually within one day, and send you information on how to log in. You'll be chatting before you know it!
Listen: Liberty Net 1/9
Here's my digest of and comments on some of the subjects discussed on the net this week:
• The "migrant" sex attacks in Germany recently should be a warning that Middle Easterners do not belong among us. We should also be aware that another, and far more dangerous, group of Middle Easterners, the Jewish power structure, controls our media, our banks, and therefore is able to order our politicians to open the gates to these invaders. (32 minutes)
• Blacks have far less impulse control, less ability to defer gratification, less ability to plan for the future, and overall far less frontal lobe development than other races — and, in the case of young Black males, the combination of a primitive mentality and low IQ with high aggressiveness is a deadly combination. (46 minutes)
• The Interior Minister in Germany, Yeager, has actually made the claim that what the "migrant" sex attackers and rapists did to German women is less offensive than what the critics of the non-White invasion "say in right wing chat rooms." Time for a treason trial — actually, thousands of treason trials. (48 minutes)
• The "migrant" sex attacks are a test of Europeans' will to resist — to see how much the invaders (and their Jewish and traitor sponsors) can get away with. So far, the treasonous European leadership, with a few notable exceptions, has totally failed the test and is more concerned with protecting the invaders and preventing the invaders from being deported than in protecting their own people. (1 hour 16 minutes)
• A family of Swedish "liberals" recently decided to open their doors to an African invader and allow him to live in their home. The African expressed his thanks by slashing the throat of their seven-year-old daughter and stabbing her to death. The "liberal" Swedish court adjudged the Black to be mentally disturbed and so, even though it was acknowledged that he "intentionally caused unnecessary suffering" in the way he murdered the child, he was convicted only of manslaughter and his punishment was just to receive "psychiatric care" and, once that is completed, to return to Africa a free man. There's even a chance that he might be freed and allowed to stay in Sweden: The Swedish Migration Board, another nest of anti-Whites, says that returning him to Eritrea would be "cruel" and should not be permitted. (1 hour 22 minutes)
Remember, you can listen to the Liberty Net every week — usually on 3995 kHz, plus or minus the interference — every Saturday night at 10PM Eastern Time (and every Wednesday as well), and also via the Internet. You can also download the Liberty Net right here at https://3950.net and listen in your car, at work, or wherever you like. Listen to the Survival Net, Sundays at 10PM, too. Check in on the air and join the excitement!
Listen: Liberty Net 1/9