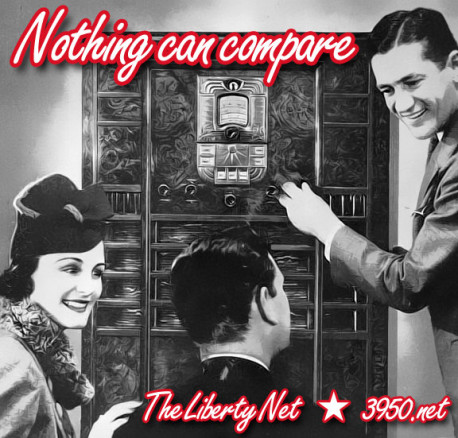 by Kevin Strom, WB4AIO
THE GROUND is frozen, but the radio room is warm with running communications gear — and the airwaves are warm with Liberty Net camaraderie.
Listen: Liberty Net 2/6″]
Here's my short digest of and remarks on some of the ideas brought to light on the net this week:
• In Sweden (where so many of the White people have clearly gone insane), a taxpayer-funded "sniper training course" is open for "migrant" invaders, and has attracted a substantial number of enrollees. (39 minutes)
• In Germany, genuine war refugees — White people fleeing the Ukraine regime and its wars — have been denied asylum 95 per cent. of the time, while more than a million non-White invaders are being welcomed with open arms and little if any vetting by the traitorous, Jew-owned politicians. (45 minutes)
• During Carnival celebrations in Germany, a non-White invader grabbed a ten-year-old boy in a men's locker room and raped him. When he was apprehended, the invader told authorities that he "had to" rape the boy because he was experiencing a "sexual emergency." (47 minutes)
• In Russia, a group of non-White invaders met with resistance from Russian men when the "migrants" started sexually approaching and molesting Russian women in a Murmansk night spot. The invaders — all 51 of them — ended up in the hospital after a group of Russian men "took them aside to educate them." Police were called to the scene and helped to subdue the "migrants" before arresting them. None of the Russian men who were defending their women were arrested. (48 minutes)
• Some (possibly System-planted) conspiracy theories say that there is no Jewish plan to exterminate our race, but instead an "elitist" "planned population reduction." If that were true, and it's not, promoting mass non-White immigration into the West is a pretty bizarre way to reduce the population. (1 hour 9 minutes)
Don't be shy — check in to amateur radio's historic Liberty Net every Saturday and Wednesday night — on some clear 75 meter frequency, usually on 3995 kHz. (The net sometimes has to be frequency-agile to avoid receiving, or causing, interference.) And check out our live Internet feed which can help you copy, and communicate with, weak stations.
Kudos and thanks go to Vic, W1WCR, for his decades of hard work for free speech and amateur radio!
Listen: Liberty Net 2/6″]