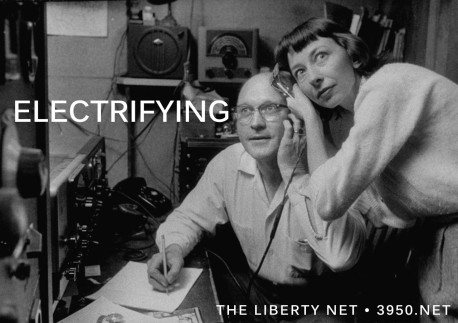 by Kevin Strom, WB4AIO
THE Liberty Net, the longest-running current events discussion net on amateur radio, is now in its 42nd year and still growing strong. Every week I write these little summaries of some of the discussions that strike me as interesting — but the net itself is often four to six hours in length, containing far more dialogue and discussion than I could possibly even summarize here. So give a listen — or better yet, check in and add your voice to the free speech tsunami!
Listen: Liberty Net 1/30
Here's a short digest of and commentary on some of the ideas brought to light on the net this week:
• A teenage Danish girl used pepper spray against a man who grabbed and attacked her and attempted rip off her clothes. The girl has been charged with a crime for using the pepper spray. The criminal who attacked her has not been located by the same authorities who were so assiduous in charging the victim. (31 minutes)
• It is Carnival time in Austria, and during the celebration the government has banned all jokes targeting "migrant" invaders and has even criminalized "misplaced irony and sarcasm" that in any way makes non-Whites feel uncomfortable. (33 minutes)
• It is also illegal in Sweden to complain about the non-White invaders who are raping Swedish women and committing other crimes at alarming rates. It is also now a crime to criticize the government's immigration policies. This is how genocide takes place in the 21st century. (37 minutes)
• The regime's so-called "Internal Revenue Service" has been systematically revoking the tax exemptions of educational and cultural organizations that are favorable to White interests or heritage, one example being local chapters of the Sons of Confederate Veterans. (52 minutes)
• Why did Saudi King Salman make a large donation to Bill and Hillary Clinton's foundation? (58 minutes)
Thanks to Marty, N2IRJ, you're able to listen to the Liberty Net right now on your computer here at https://3950.net/ — or download the file and listen anytime on your mp3 player. Check in over the air this week!
Join in or listen to the most exciting net on the amateur bands every Saturday night starting at 10PM Eastern Time.
Our thanks go to W1WCR for his hard work and courage in keeping this very important part of the amateur radio service alive for over 41 years!
Listen: Liberty Net 1/30