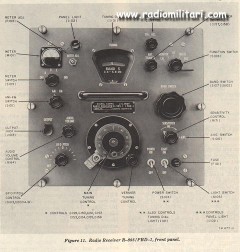 by Kevin Strom, WB4AIO
THE YEAR WAS 1973. It was my first hamfest. I was so young I didn't have a driver's license and my mother drove me to Gaithersburg that crisp October morning. I met WA3PUN, Ed Bolton, there. He was one of the AM amateur operators that I'd just started talking with on 75 meters. And I made my very first hamfest purchase — a shiny new-looking 1950s military surplus receiver, a Collins R-395, part of the PRD-1 direction finding set.
Now I notice, thanks to the Declan McCullagh photography site, that an R-395 that looks exactly like the one I bought and added to my Viking Valiant / BC-610 / DX-150A HF station is now enshrined as an exhibit in the National Cryptologic Museum in Laurel, Maryland. Time passes, and what was once just an old yet interesting receiver is now a notable part of history.