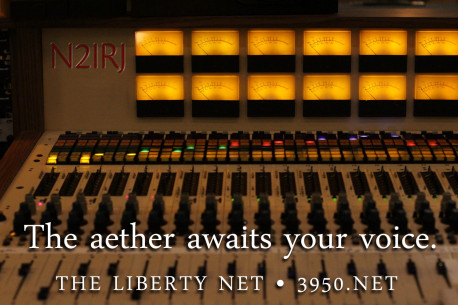 by Kevin Strom, WB4AIO
THE 3950.NET audio stream has just been upgraded. Our new streaming server has several advantages over the old one:
1. It has far less latency, meaning that the sound you hear will only be about ten seconds behind real time, instead of around 50 seconds as with the old server.
2. The transition between our recordings and our live feed during net times should be much quicker and seldom require a restart of your player, unlike the old server which created considerable delays and often required a player restart.
If you are hearing a message stating that we have switched to a new server — instead of hearing our actual stream — that means you are still listening to the old stream. All you need to do to get the new stream is reload our https://3950.net/live page or, if you're using a media player, simply follow the links at the bottom of that page and update your player's bookmarks. The old server will be going offline in a week or so and the old URLs will go dead at that time.
There is extra expense associated with this server — please help us pay for it by making a donation!
Listen: Liberty Net 11/14
Here's my digest of — and take on — a small selection of the ideas brought up on this week's net:
• European civilization obviously has a Muslim problem. But it would be more correct to call it a Semite problem — because without the Jewish oligarchs and media barons throwing open our gates, making war on innocent Muslims in their own homelands, and teaching Whites a race-blind "morality" that prevents us from resisting, the invaders wouldn't be in our nations at all. (23 minutes)
• More "coalition bombing" is definitely not the solution to the terror problem in Europe. The only possible solution is to make citizenship and residency available only to those of European descent, coupled with an end to Western intervention in the Middle East on behalf of Israel. (34 minutes)
• The terror attacks in Paris actually didn't happen. They couldn't have happened because they were impossible. They were impossible because guns and other weapons are illegal there. (44 minutes)
• A recent statistic quoted in the media tells us that only 20 per cent. of Muslims "believe in jihad" against the West. Ignoring the fact that this would still be millions upon millions of people, is it possible that a large part of the 80 per cent. are lying to the pollsters? Since the Jewish oligarchs who control the West have been forcing Western nations to make bloody war on the mostly-innocent Muslims who stayed home for more than a decade now, it wouldn't be at all surprising if 100 per cent. of Muslims now believe in jihad. (46 minutes)
• The very worst dregs of the Third World are being imported en masse to the United States and released onto the streets. There is no other conclusion possible: The alien elite that rule this country want us dead. (1 hour 7 minutes)
Remember that you can receive the Liberty Net on  3995 kHz (or a nearby open frequency in the case of interference) every Saturday night at 10PM Eastern Time. You can also listen live on the Internet or listen at your leisure via the mp3 files posted right here at https://3950.net every week. And don't forget the Midweek Liberty Net on Wednesdays and the Survival Net on Sundays — all at 10PM Eastern.
The complete net recording is posted at the very top of the right column (under "Liberty Net Audio") here on https://3950.net — usually on the day immediately following the net, so look for it there if you'd like to listen or download after the net has signed off. The new articles and summaries (like this one, found in the center column) show up around a week later.
Once again, thanks to W1WCR and all participants for making this extraordinary net possible — and please check in!
Listen: Liberty Net 11/14