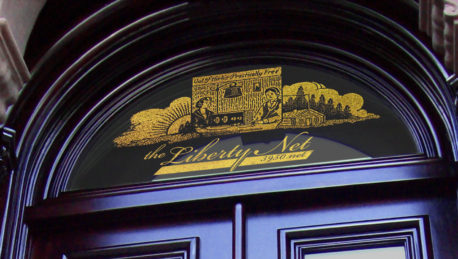 by Kevin Strom, WB4AIO
IT'S LIGHTNING season. There are many methods of protecting your station from nearby strikes (nothing can protect it from a direct hit). One method used here at WB4AIO is this: I use open wire feedline. Where it enters my home, the two balanced-feedline wires pass through the wall by going through through two narrow plastic tubes just a little bit wider than the wires themselves.
Just about an inch or so outside the wall, each wire of the feedline is connected via a Powerpole quick-disconnect connector. When a storm is approaching, I just walk out to the back of the house, disconnect the feedline, and toss it ten or 15 feet away from the house. (This is also done when mowing the lawn, so the feedline is out of the way and out of danger.)
There's no better way of keeping a lightning-induced spike on the antenna from entering my equipment than by having that antenna's feedline a dozen feet from the house!
Another thing I do is keep a 2-Watt 22 Megohm high voltage resistor connected across the open wire feedline at all times. This absorbs practically no desired RF, but effectively prevents DC static charges from building up across the antenna's feed system during precipitation or storms. Such DC buildup can sometimes cause loud popping sounds in your receiver called "precipitation static" — or even cause arcing when a passing storm front brings a large atmospheric voltage gradient along with it. With the resistor paralleling the feedline, any such charge is bled off before it can cause any problems.
Listen: Liberty Net 7/30″]
Here are a few selections from the topics brought out on this week's net, along with my comments:
• The murders, rapes, and other crimes committed by non-White invaders being brought into Germany by traitorous politicians like Angela Merkel are getting so overwhelming that Germans are starting to call this 2016 season "Merkel's Summer of Slaughter." (21 minutes)
• Crazy Glenn Beck says he's going to support open borders advocate Gary Johnson. At least we know where Crazy Glenn's loyalties lie now! (1 hour 13 minutes)
• Since they've made it virtually illegal to criticize Islam in Germany now, some are suggesting that the Christian Democratic Union party (CDU) should be renamed the IDU, or Islamic Democratic Union.  (1 hour 26 minutes)
• Is it possible that the recent release of John Hinckley (who tried to assassinate Ronald Reagan in 1981) was timed specifically to send a message to Donald Trump not to get too far "out of line" from what the Jewish power structure wants? (1 hour 33 minutes)
• Feminists, who claim to care about girls and women, must be insane to support Third World or Muslim immigration to White countries, since such invaders come from cultures where women are treated very badly. They must also be insane to suggest that the War Hag (Hillary Clinton) is a good role model for young women — unless they really think lying, stealing, and treating other people like dirt are admirable qualities. (1 hour 40 minutes)
Remember that you can receive the Liberty Net on  3995 kHz (or a nearby open frequency in the case of interference) every Saturday night at 10PM Eastern Time. You can also listen live on the Internet or listen at your leisure via the mp3 files posted right here at https://3950.net every week. And don't forget the Midweek Liberty Net on Wednesdays and the Survival Net on Sundays — all at 10PM Eastern.
The complete net recording is posted at the very top of the right column (under "Liberty Net Audio") here on https://3950.net — usually on the day immediately following the net, so look for it there if you'd like to listen or download after the net has signed off. The new articles and summaries (like this one, found in the center column) show up around a week later.
Once again, thanks to W1WCR and all participants for making this extraordinary net possible — and please check in!
Listen: Liberty Net 7/30″]