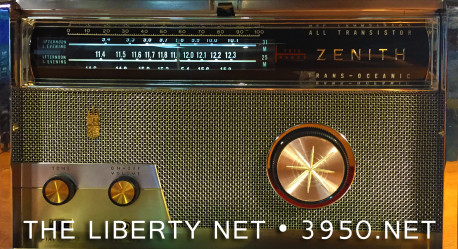 by Kevin Strom, WB4AIO
EVEN THOUGH we're near the peak of the sunspot cycle, propagation has been acting more like we're at the bottom. (Some scientists think the low sunspot numbers presage a cooling trend of many years' duration.) Luckily, this hasn't seemed to impact Liberty Net or other 75 meter operations, and signals are great this season — and static is low, too. So join in on the exchange of ideas on the Liberty Net this week!
Listen: Liberty Net 2/28″]
Here's my selection from, and commentary on, some of the ideas and concepts discussed the Liberty Net this session:
• The debt of the heavily Third World city of Chicago has now been downgraded to one step above junk status. (7 minutes)
• Fetchit caved in to Jewish pressure and decided to send a representative to meet with war criminal and mass murderer Benjamin Netanyahu when he came to Washington to try to stir up a war between the US and Iran. (10 minutes)
• All the brouhaha over the death of Jewish actor Leonard Nimoy — who portrayed "Spock" on the television series Star Trek — is proof of the power of fictional stories to emotionally affect and persuade us. (22 minutes)
• Any congress-critter who votes for a bill he hasn't read (and many bills, comprising thousands of pages of "laws," can't possibly be read in time) should be deported to the Moon. (43 minutes)
• The CIA engineered yet another attempted coup this week, this time in Venezuela, yet the controlled media uttered hardly a peep. Venezuela's sin? It just wants to be totally separate from the regime in Washington — financially, militarily, and in every other way. Don't you feel the same way? (1 hour 11 minutes)
• Kent Hovind — whether you agree or disagree with his anti-evolution religious theories — has been imprisoned for his resistance to economic tyranny, and should not be in jail. (1 hour 22 minutes)
• Drug addiction should be treated as a sickness and not as a crime. The regime's "war on drugs" has created a monstrous and cruel empire of bureaucracy and private profit built on the backs of ruined families and literally tortured innocent people. (1 hour 24 minutes)
• Soft drinks can be used to clean engines, or remove rust from chrome bumpers. Using them for those purposes is much healthier than ingesting the stuff, too! (1 hour 33 minutes)
Remember that you can receive the Liberty Net in the vicinity of 3950 kHz (recently, 3995 has been used most often) and above every Saturday night at 10PM Eastern Time, Wednesdays at 10PM — and don't forget the Survival Net at 10PM on Sundays. Or listen live on the Internet (see the two "Liberty Net Live" links in the left column of this site for two live streaming sites with associated discussion rooms). And you can listen at your leisure via the mp3 files posted here at https://3950.net every week.
Once again, thanks to W1WCR for running this important and historic discussion net — now in its 40th year — and thanks also to N2IRJ for making these recordings available.
Listen: Liberty Net 2/28″]