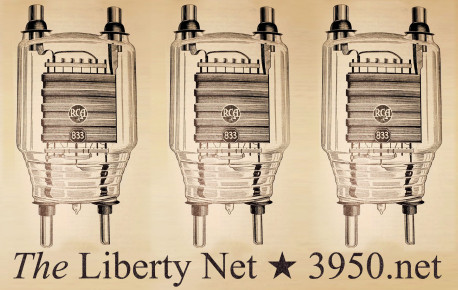 by Kevin Strom, WB4AIO
WHEN THE Liberty Net is not on the air live, we put the latest net recordings — along with a few amusing extras — in rotation on our streaming server, so there is always something to listen to. Starting next week, we will also be putting one vintage net recording from six or so years ago into the rotation loop. Enjoy!
Listen: Liberty Net 6/6
Here's my summary and outlook on some of the ideas debated on the Liberty Net this session:
• Software is becoming more and more significant in the operation of our automobiles. There's even development of GPS-linked software control of driving itself. Ominously, there are rumblings that licensing and copyright laws will soon be used more than ever to prevent our own experimentation with our vehicles. (15 minutes)
• A Denver-area property owner had his apartment building destroyed by a military-style SWAT team chasing — get this — a shoplifter. (24 minutes)
• In St. Louis, yet another militarized SWAT "assault team" invaded a woman's home — and shot her totally non-aggressive dog dead — and terrorized her and her family, all over a dispute with the natural gas company. One of the "officers" told a child there — who was upset about the killing of the dog — that "one more word out of you, motherf*****, and I'll put three in you." (26 minutes)
• After a string of racially-motivated Black attacks on Whites and Asians in Philadelphia, the Jewish-run "Southern Poverty Law Center" insulted the victims by saying that it was just a "coincidence factor" that all the perpetrators were Black and all the victims were not. The police department in Black-run Philly seemed very uninterested in even filing reports on these crimes. (33 minutes)
• The "black operations" budget of the regime's secret police agencies is larger than that of many entire nations. Think that this money isn't being used against innocent people, including Americans — and even being used for murder and assassinations? Think again. (1 hour 10 minutes)
Thanks to Marty, N2IRJ, you're able to listen to the Liberty Net on your computer — or download the file and listen on your portable mp3 player. Please check in with your call sign, and add your voice to the most exciting net on the amateur bands — every Saturday night, starting at 10PM Eastern Time, and Wednesday nights at the same time. (And check out the Sunday 10PM Survival Net too.)  The frequency varies to avoid causing interference, but is almost always on 3995 kHz LSB lately.
Our deepest thanks go to W1WCR for his hard work and courage in running the Liberty Net, which is now in its 41st year.
Listen: Liberty Net 6/6