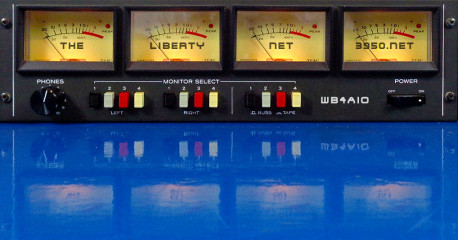 by Kevin Strom, WB4AIO
NOW THAT the Enemies of Life have decided that the Confederate flag has "got to go" because it's a symbol of "racism," freedom-loving people everywhere — even those with no connection to the American South — should start using it with enthusiasm as a symbol of freedom, solidarity, resistance, and defiance.
Listen: Liberty Net 7/4″]
Here's my take on some of the concepts discussed on the Liberty Net this week:
• The banker-owned media tell the Greeks that the German bankers are taking advantage of them with predatory loans, and are impoverishing Greece. Those same media then tell the Germans that the Greeks are "deadbeats" who won't pay their debts and are impoverishing Germany. The truth is that the bankers aren't German — they're Jewish; the "loans" are fictitious, created by the bankers out of nothing so no one really owes them anything; and the international bankers are stealing the wealth of both Greeks and Germans — and us too. Don't fall for these media lies. All of us — Germans, Greeks, Americans, and others — should form a united front against these fraudsters. (22 minutes)
• There was a time, within the living memories of some of us here, when America was well in excess of 90% White, and, thanks to wise immigration policies, was getting Whiter every year. It was a major priority of the Jewish power structure to change that, and they did — with catastrophic consequences — while most Americans remained ignorant. (34 minutes)
• Some localities will grasp at any straw to get an excuse to tax us. Now in Gloucester, Virginia, there is even a tax on how much rainwater falls on your property. (1 hour 28 minutes)
• It's foolish to think that the next federal election — regardless of who "wins" — is going to change anything in Washington. The System is designed to keep us ever-hopeful that "the right candidate" will bring us change, but is also designed so that we can never achieve any changes except the ones that the money-men have already decided that they want. (1 hour 43 minutes)
• The public school system is now astoundingly effective (just as was intended) at teaching your children to be sexual profligates and deviants — and to hate their own race. (1 hour 50 minutes)
Remember that you can receive the Liberty Net — usually on 3995 kHz but sometimes on a nearby frequency — every Saturday night at 10PM Eastern Time, Wednesdays at 10PM; and don't forget the Survival Net at 10PM on Sundays. Or listen live on the Internet (see the "Liberty Net Live" links in the left column of this site). And you can listen at your leisure via the mp3 files posted here at https://3950.net every week.
Once again, thanks to W1WCR for running this important and historic discussion net — now in its 41st year — and thanks also to N2IRJ for making these recordings available.
Listen: Liberty Net 7/4″]