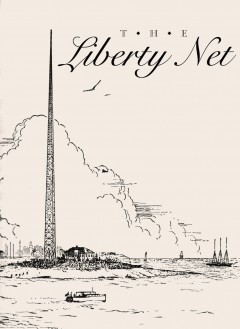 by Kevin Strom, WB4AIO
THIS WEEK I want to give a special thanks to all those of you who have contributed to the discussions on the Liberty Net over these many years — both those of you who have been on the net for decades, and the many new check-ins we've welcomed in recent months — both those who talk to us over the air, and those who offer their views via our chat rooms or via email, letter, or telephone calls. All of you are what make the Liberty Net what it is.
Listen: Liberty Net 3/17
Here are some of the ideas brought to light during this week's Liberty Net:
• Why can Eric Holder and those under him openly commit criminal acts — as they did in the so-called "Fast and Furious" gun-running program — for which anyone else would be thrown in jail, and yet not even be charged? (8 minutes)
• The banks in Europe just created the largest amount of money in any one day in history, though they called it an "injection of liquidity." Why is this momentous event not making headlines? Could an analysis of media ownership provide the answer? (9 minutes)
• A new bill has been introduced, HR107, which states that if Obama, or any President, initiates any further military action without Congressional approval, such act will be considered an impeachable offense. (25 minutes)
• In the Third World satrapy that is still called Detroit, the Department of Human Services is so terminally corrupt that it has actually been shut down. It is estimated that, of the $72 million that American taxpayers gave — gave! — to that sink pit in one year alone, some $55 million is acknowledged to be missing. (30 minutes)
• In one of the regime's courthouses in Washington, DC, a portrait honoring violent anti-White terrorist and Communist Party leader Angela Davis has been put on display, along with a legend stating that Davis "paved the way for political greatness" for Black people. (34 minutes)
• "White flight" from cities ravaged by Third World invasions and birth rates has, in some areas, collided with those fleeing from cities in the opposite direction. In other words, we now have nowhere further to retreat. (44 minutes)
• In Morocco, there is a civil law which allows a man who rapes a minor to escape prosecution if he agrees to marry his victim. Recently, one such young victim committed suicide after being beaten by her new "husband," sparking protests. Are you sure that multiculturalism is such a good idea now? Morocco, by the way, is one of the Washington regime's noble "allies." (50 minutes)
• Ad agencies, criminals, and Facebook itself are now using sophisticated software to harvest and collate your images and personal information from that social networking site. It is wise not to use your real name, location, birth date, or other identifiable information if you decide to use that service. Facebook is also well known for deleting people who tell too much truth about political or racial matters, so backup accounts are de rigueur. (55 minutes)
• According to CIA Director David Petraeus, some televisions, smart phones, and home appliances are now being wired to allow surreptitious surveillance of your home. (1 hour 18 minutes)
• The "Kony 2012" video that garnered millions of views on YouTube, and which was agitating Americans to support military intervention in sub-Saharan Africa, has now been revealed to be a hoax. (1 hour 55 minutes)
Thanks to Marty, N2IRJ, you're able to listen to these Liberty Net recordings at home, at work, in your car, or while hiking or jogging with your portable mp3 player. And remember the live feeds during Net times, right here at https://3950.net/live/ and at N2SAG's site, that let you hear the Liberty Net via multiple receivers — and chat too.
Check out, and check in to, amateur radio's most exciting net every Saturday night — usually somewhere above 3950 kHz SSB (we have to be flexible to evade jammers and intruders), starting at 10PM Eastern Time.
Kudos and thanks go to Vic, W1WCR, for his decades of hard work for free speech and amateur radio!
Listen: Liberty Net 3/17