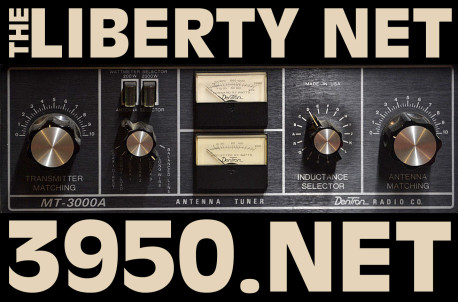 by Kevin Strom, WB4AIO
THE LIBERTY NET has survived jamming, government intimidation, and intruders whose agenda was to derail and destroy the net — and it has come out victorious over them all since 1974. Here's to another 41 years!
Listen: Liberty Net 8/1″]
Here's my summary of and commentary on some of the concepts brought up on the Liberty Net this week:
• The cuckservative meme has really taken off and is now one of the most popular ideas on the Internet — one wag even re-dubbed the disgusting Israel-firster Mike Huckabee "Mike Cuckabee." Cuckabee supports the Jewish state with fervor and billions of dollars and other people's blood — but would probably have a meltdown if anyone asked him to support his own people. (1 hour 35 minutes)
• In Greece, as in Ukraine and innumerable other White countries, CIA- and Soros-funded NGOs are working furiously and spending billions to flood the country with non-White "migrants." (1 hour 38 minutes)
• A popular Web site called Rancor ran a poll to see who the top ten "people we wish were still alive" were, according to their readers. Einstein, John Lennon, Leonardo da Vinci, and Jesus Christ all made respectable showings — and number one, with 42,000 votes, was former German Chancellor Adolf Hitler. (1 hour 41 minutes)
• In Maryland Heights, Missouri, a waitress was fired because a Black couple complained that they had been identified as a Black couple on the waitress's note pad. The gutless restaurant owner also required all his remaining employees to take mandatory "diversity training." (1 hour 44 minutes)
• According to Abby Wilson, the Allegheny County Deputy Director of the Department of Health "Bureau of Public Policy and Community Relations," whatever that is, there are "too many White people" in Pittsburgh, Pennsylvania. The author who quoted her defended the statement, saying "that's just another way of calling for diversity." No one, of course, ever complains about a "lack of diversity" in non-White areas. Which proves, once again, that "diversity" is just a code word for White genocide. (1 hour 45 minutes)
Remember that you can find — and check in to — the Liberty Net on a clear frequency on or near 3995 kHz LSB every Saturday night at 10PM Eastern Time, or you can listen live via the Internet  at the "Liberty Net live" links in the left column of this site. You can also listen whenever you like on your media player via the mp3 files posted here at https://3950.net every week. And remember the Midweek Liberty Net on Wednesdays and the Survival Net on Sundays, all at 10PM Eastern.
Thanks to W1WCR for running the Liberty Net, and thanks to all of you for checking in and making the net what it is today!
Listen: Liberty Net 8/1″]