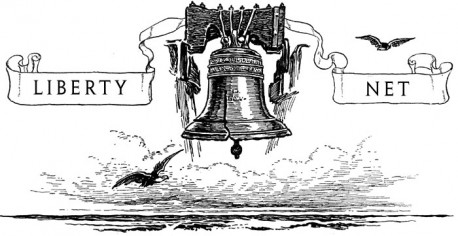 by Kevin Strom, WB4AIO
THIS WEEK the longest-running current events discussion net on Amateur Radio, the weekly Liberty Net, took place on its 3950 kHz LSB nominal frequency — though most weeks, interference, some of it intentional, forces the Net to be frequency-agile, usually within 10 kHz or less. Here are a few highlights from the free-swinging discussions that took place:
Listen to or download this week's Liberty Net
• Obama has now publicly stated that Americans "should not be questioning" his citizenship. (25 minutes)
• Armed Haitian gangs continue to terrorize the island, including one attack on a UN aid convoy. Similar attacks take place regularly in sub-Saharan Africa and in areas of the U.S. where Haitians have immigrated in significant numbers. Also, cock-fighting and Voodoo remain strong presences on the island, as is the folk belief in the "Loup garou," the possessed who kidnap and eat children; many accused of being "Loup garous" have been killed. (In France, the "Loup garou" is an old myth, like vampires are to us — but millions of Haitians not only believe in such things, but kill to "protect themselves" from them.) (27 minutes)
• Why did the power structure which got the boobs whipped up to pull the levers for Obama pick such a person, whose background and even citizenship is highly questionable? Answer: he is blackmailable. The power structure always wants a back-door way to get rid of its puppets in case they get out of control, and Obama is no exception. (52 minutes)
• Who are Obama's handlers and controllers? Rahm Emanuel is one. (1 hour 7 minutes)
• False flag operations have changed history — think of the Gulf of Tonkin, Pearl harbor, and 9/11. Consciousness of this fact is spreading, and it is Glenn Beck's job to co-opt and squelch this consciousness. (1 hour 16 minutes)
• Will Obama play the "war card" and bomb Iran just to boost his poll numbers and his standing with the pro-Zionist media? Amazingly, National Review is advocating that he do so, almost in these very words. (1 hour 18 minutes)
• Is the exaggeration of Toyota's brake and accelerator defects a plot to make way for the Chinese cars that are currently being backed by Warren Buffet and GM? (1 hour 30 minutes)
• The "Obamacare" health plan in all its incarnations constitutes a huge transfer of wealth from Whites to non-Whites. This is part of a two-pronged political strategy: the other part is to grant amnesty and voting rights to illegal immigrants. Democrats crassly believe that this will guarantee their political ascendancy in perpetuity. (1 hour 39 minutes)
• The brand-new "Rosa Parks Transit Center" in Detroit is now closed for a large part of every day because of the rampant crime and filth that quickly take over almost every public facility in that city. (1 hour 54 minutes)
• What can Americans do to help their families and their neighborhoods survive the coming economic hard times? Beware: those living near America's big cities may not survive marauding Third World gangs. (3 hours 5 minutes)
• America lost a great patriot and the English-speaking world lost a great writer and investigator when Eustace Mullins died this week. (3 hours 21 minutes)
Net discussions begin at about the 18 minute point, and the audio file is about 119 MB in size, 5 hours 49 minutes in length.
Remember that you can receive the Liberty Net on the nearest clear frequency to 3950 kHz every Saturday night at 10PM Eastern Time, or listen live on the Internet via N2SAG (who also includes a lively chat room during Net hours) or N2IRJ (whose delayed feeds also run throughout the week), or listen at your leisure via the mp3 files posted here at https://3950.net every week.
Once again, thanks to W1WCR for running this extraordinary net, and to N2IRJ for making these recordings available.
Listen to or download this week's Liberty Net