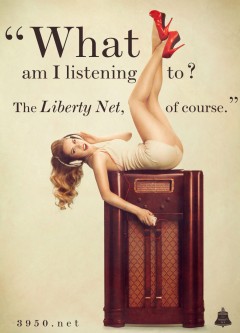 by Kevin Strom, WB4AIO
VIC, W1WCR's antenna repairs this week brought his already continent-spanning signal back up to the continent-dominating level. Vic is the Net Control Station (NCS) for amateur radio's longest-running current events discussion net, the Liberty Net.
As Spring and Summer — and increased atmospheric static — loom in the near future, it's good to plan transmitting antenna improvements at your station. Full-size antennas — a full quarter wave vertical with an excellent radial system, or a half-wave or longer horizontal antenna no lower than 50 feet average above the ground — are definitely the best. 75 meters is a highly crowded and competitive band with a high natural noise level, and compromise antennas are a poor choice for net operations.
Listen: Liberty Net 2/23″]
Here's a small sample of some of the concepts discussed on the Liberty Net this week:
• You know it's really getting bad when Federal Reserve officials themselves are warning that Bernanke's "QE Infinity" policy, and the unsaleable debt it's based on, threaten the solvency of the "fail proof" central bank. (11 minutes)
• The bankers can easily make it look like the "sequester" causes huge economic problems — and thereby get the kind of budget agreement they want (one that creates more and more debt and more interest payments to them, natch) — just by turning down their money creation spigots for a few days. (38 minutes)