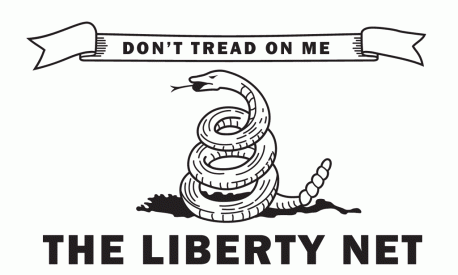 by Kevin Strom, WB4AIO
A WIDE range of viewpoints emerged on the Liberty Net this session, and it's no longer possible to classify the Net as either of the "left" or the "right." Critics of the oligarchy come from far more than one perspective.
The Liberty Net is on the air every Saturday night at 10PM Eastern Time on — or near, usually within 10 kHz or less — 3950 kHz SSB.
Listen to or download this week's Liberty Net
Begun in 1974, the Liberty Net is an amateur radio tradition. It's the longest-running discussion net in amateur radio. Here are a few highlights from this week's recording:
• One of safest places you can be, statistically, is a shooting range. And one of the least safe is a swimming pool. So, do we need "swimming pool control" by the federal government? (35 minutes)
• Will Obama try to guarantee himself a second term by calling for the legalization of all illegal immigrants? (38 minutes)
• Is the breakup of the United States a real possibility, once the dollar loses much of its value and oil becomes virtually unavailable? One good result would be the stalling of the U.S. war machine. (49 minutes)
• Apparently some members of the Detroit school board cannot read or write, as dysgenics takes its toll of that once-great city. (1 hour 14 minutes)
• Is the Washington regime going to create a phony incident to start a war with Iran in the near future? (1 hour 20 minutes)
• Since the criminal elites get their power by manipulating an ignorant electorate, would it not be better to limit the vote to those with more knowledge, education, and intelligence? (1 hour 43 minutes)
• Rupert Murdoch (the super-Zionist media oligarch who owns Fox News and the Wall Street Journal) is considering charging for his online content. He should study the example of New York's Newsday, which tried to do the same thing and ended up with a grand total of three subscribers when their pay site launched. (2 hours 0 minutes)
• Soon we will reach a tipping point where millions of Americans will simply decide to have nothing more to do with the Federal Government. And they will starve it. And its wars, its taxes, and its secret police agencies will die out — probably after a brief but violent flare-up. (2 hours 9 minutes)
• Some banks were told to keep their "bailout" money even when they tried to repay it, so that it can be used to artificially prop up purchases of U.S. Treasury notes when the Chinese and Japanese start fleeing a bad investment. (3 hours 44 minutes)
Check-ins begin at the ten minute mark. Remember, thanks to N2SAG and N2IRJ and W1WCR, you can listen to multiple live Internet streams when the Liberty Net is on the air — which almost totally frustrates the jammer stations which, in true Stalinesque fashion, sometimes try to suppress free speech. And, as always, you can download the Net right here at https://3950.net and listen on your mp3 player while jogging, driving, or relaxing.
Listen to or download this week's Liberty Net