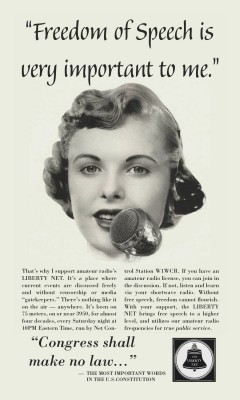 by Kevin Strom, WB4AIO
THE LIBERTY NET is the most exciting — and one of the most venerable — nets on the amateur radio bands today.
Emceed by published author Vic Misek, W1WCR, it's on the air every Saturday night at 10PM Eastern Time on or around 3950 kHz SSB — usually within 10 kHz.
Propagation was generally good this week, and jamming was absent (though Summer static was a bit of a problem), making for excellent dialogue and information sharing.
Listen to or download the Liberty Net recorded July 10
Here are a few of the subjects discussed on this week's net:
• What should the American attitude be to Muslims? Should we be friendly to those who mind their own business and stay in their home nations, while firmly resisting any Muslim migration to the US? Or should we do as we are now doing, and happily welcome Muslim invaders to our shores — while making unremitting war on the innocent Muslims who stay at home in their own countries? (18 minutes)
• Are Muslims and Christians being baited to kill each other by a manipulative third force? (26 minutes)
• Are White Americans being programmed to hate themselves — or, failing that, are they manipulated into pretending to hate their own race and to work for its dispossession in all their public acts and utterances? (32 minutes)
• One of the regular features of the Liberty Net is K3DK's report on the number of bank failures in the past seven days: This week's total is four. (52 minutes)
• More than 40 per cent. of private real estate transactions in Florida are now foreclosure sales. (54 minutes)
• It's true that a small dose of socialism works much better in Germany and Switzerland than it does in the United States. But, then again, free enterprise (and practically everything else) works better there too: When you have the bad demographics of an increasingly genetically and culturally Third World population, like America does, nothing is going to work very well. (1 hour 13 minutes)
• The combination of oil and the "dispersants" used by BP after their spill is far more dangerous than the oil itself. (1 hour 35 minutes)
Thanks to N2SAG and N2IRJ and W1WCR, you can listen live — and chat live — via the Web whenever the Liberty Net is on the air. You can also download the Liberty Net right here at https://3950.net and listen on your PC or personal mp3 player.
Listen to or download the Liberty Net recorded July 10