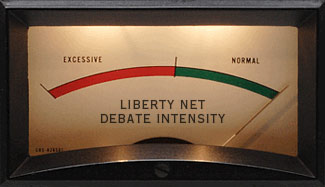 by Kevin Strom, WB4AIO
A COUPLE OF INSANELY OBSESSED would-be jammers made obscene catcalls and played noises during the Liberty Net this week, but even the lowest-power and furthest check-ins were able to overcome them and communicate an amazing array of ideas and new information to the other net participants.
Listen: Liberty Net 2/26
Here are just a few of the subjects discussed and debated this week on amateur radio's longest-running and best discussion net:
• Was the killing of four White Americans — three of whom were amateur radio operators — by savage Somali pirates revenge for the recent sentencing of another Somali pirate? It is reported that some 30 ships and about 600 captives are still being held by these pirates. (15 minutes)
• Why does Obama meet with lobbyists in a small complex just off the White House grounds? Simple: If he met with them on White House grounds, the lobbyists would have to sign Secret Service logs, which are required to be released to the public. (20 minutes)
• Why does the TSA have an official policy of never checking the immigration status of persons applying for pilot's licenses? (23 minutes)
• The corruption and financial profligacy in America's most African city, Detroit, has reached such proportions that they are seriously considering simply shutting down the public school system. (50 minutes)
• One of the most important things we can teach our children is to avoid debt: they will be much better off if they spend none of their precious lives working to pay interest to the bankers for fictitious "loans." (1 hour 12 minutes)
• When a group of 14- and 15-year-old Kenyan and Ethiopian Black male "refugees" — as large and strong as many adults, since Blacks mature faster than Whites — were sent to a school in Manchester, New Hampshire, they were placed with sixth grade White kids because of their relative mental development. The result was that four of the Blacks separated a 12-year-old White girl from her fellow students and relentlessly tormented her, demanding that she become their "girlfriend." When she refused, the girl was beaten by the Blacks. She received a concussion and several of her teeth were knocked out. The media have given almost no publicity to this story. Neither the school nor the local authorities are taking any action against the Blacks. School officials claim that "cultural differences" caused the attack. (1 hour 48 minutes)
• Why is Fox News all in an uproar over the millions that public employee unions have managed to wrest for their members from government, when the budget for the useless, murderous, and illegal Zionist wars in the Middle East dwarfs them by hundreds of times? (1 hour 55 minutes)
• Not only is regime in Washington importing millions of Third Worlders to replace us, but they are cherry-picking them from the world's worst trouble spots (and therefore from the most aggressive and low-IQ tribes of humans in existence). This is a guaranteed formula for disaster, since — contrary to equalitarian dogma — humans are not equal or interchangeable, and most behavior is genetically determined. (2 hours 18 minutes)
Thanks to N2SAG and N2IRJ and W1WCR, you can listen to the Liberty Net every week — somewhere near 3950 kHz, plus or minus the interference (lately substantially above that frequency) — every Saturday night at 10PM Eastern Time, and also via the Web. You can also download the Liberty Net right here at https://3950.net and listen in your car, at work, or wherever you like.
Listen: Liberty Net 2/26