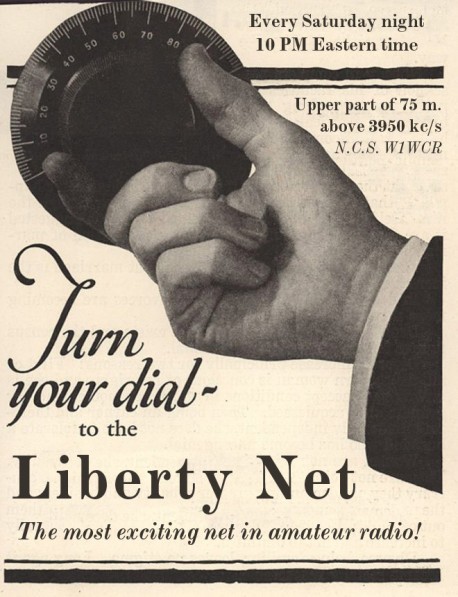 by Kevin Strom, WB4AIO
WE WERE SADDENED to learn of the death of long-time Liberty Net participant Joe Rogers, W8LDW, last week after a hard-fought battle with cancer. He was born in 1943 in Dallas, Texas. Joe was an electrical engineer with Peerless Technologies where he worked on aviation projects, public and private. I always learned something from his transmissions, and, whether he agreed or disagreed with others, he invariably expressed himself like a real gentleman.
Here's an excerpt from the Liberty Net of September 29th, featuring Joe's transmission:
W8LDW SK"]
As fellow net participant Dieter Hauer, K3DK, said "His insight, words of wisdom and friendship will certainly be missed on our weekly radio net. Rest in peace Joe."
Listen: Liberty Net 1/5″]
Here is a sample of the ideas put up for your consideration on the Liberty Net this time:
• A renewed America would restore the immigration policy that was put into effect by the Founders: one based on race. (16 minutes)
• Sean Hannity has now come out totally in favor of legalizing the Mestizo invasion of the United States. If you're surprised by this, you haven't been listening to the Liberty Net. (19 minutes)
• The obvious program of the billionaire oligarchs to replace the White population with non-Whites should be called by its real name: genocide. (30 minutes)
• In the midst of the media frenzy about the Newtown shootings, in Chicago eleven people were shot in the first few hours of the new year — but the controlled media made little or no mention of that fact. (32 minutes)
• The idea that "law enforcement" inherently has the right to possess weapons which are not permitted to us is a dangerous and false idea, whose final result can only be tyranny. (50 minutes)
• The current coalition in Western nations between Islam, the kept left, and the Jewish power structure is bizarre and probably unstable. Little unites these groups except a passionate hatred of us. (1 hour 24 minutes)
• At the same time that aliens secured total control of America's money system through their "Federal Reserve" 100 years ago, our motion picture industry was also being taken over by the same ethnic gang. (1 hour 42 minutes)
• A maverick bank, the oldest bank in Switzerland — older than the United States, in fact — has been forced to close because of a huge fine demanded by the regime in Washington. The bank's alleged crime? Respecting its depositors' financial privacy and refusing to hand over private, confidential information on them to the Washington criminals. (1 hour 52 minutes)
The Liberty Net — amateur radio's longest-running current events discussion net — is on the air every Saturday night at 10PM Eastern Time on or around 3950 kHz SSB (usually higher in frequency — recently around 3986 — to avoid interference). You might have to tune around, but we're not hard to find.
Remember, thanks to our multiple audio feeds, you're likely to be nearly interference-proof! And, as always, you can download the net recording right here at https://3950.net and listen at your leisure.
Listen: Liberty Net 1/5″]