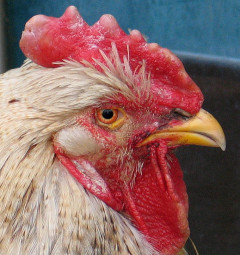 by Kevin Strom, WB4AIO
THIS WEEK Marty, N2IRJ, a long-time Liberty Net participant, lost his beloved pet Round Love (pictured), a rare Brahma rooster who wandered into the N2IRJ antenna field more than a year ago during frigid Winter weather. Round Love's feet were severely damaged by frostbite, but Marty and his wife Laura, N2JTT, nursed the friendly, inquisitive creature back to excellent health; fed, sheltered, and took care of him — he spent his days outside but slept in their foyer — and had more than a year of companionship with him before he died.
The French writer Anatole France put it well: "Until one has loved an animal a part of one's soul remains unawakened."
In honor of Round Love, his voice can be heard between net recordings on the https://3950.net/live stream all this week and next. We'll also put a recording of him up in our Liberty Net recordings list.
Listen: Liberty Net 3/26″]
Here's my selection of just a few of the ideas on this week's net, along with my remarks:
• Huge numbers of dentists, facing totally botched or missing reimbursement from the Obamacare nightmare/monopoly, are in a dilemma: turn away hundreds of patients who really need care, or go out of business. (8 minutes)
• The gun-grabbers now want carte blanche to seize your medical records, so they can examine them (I guess they never heard the word "privacy") and look for any possible reason, no matter how small or inaccurate, to deny you your Second Amendment rights. (11 minutes)