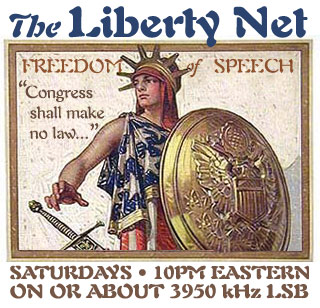 by Kevin Strom, WB4AIO
THE FIRST SESSION this year of the weekly current events discussion Liberty Net on 75 meters was a big success and more thought-provoking than ever.
It looks like Net Control Station (NCS) W1WCR and company may well have the biggest year in the three-decade-plus history of the Net.
Here is a small sampling from the topics covered in this week's discussions, along with the time when they took place (from the beginning of the recording in hours and minutes):
Listen to or download this week's Liberty Net"]
• There is no significant difference between Democrats and Republicans and the sooner Americans realize this the better. (33 minutes)
• Are you looking for a new political party? Perhaps White Americans should consider the Black Panther Party — substituting "White" for "Black" in their historic platform produces a most appealing document, proving that the desire for freedom and self-determination is universal. (39 minutes)
• The economic crash and "bailout" is really the looting of America: It wasn't loans to low-income folks that crashed the economy. (45 minutes)
• What we really have is finance capitalism for most of us and socialism for the super-rich. America can rightfully be called the "billionaire bailout society." (53 minutes)
• As Somalians invade New England, Somalians in Denmark were involved in a terror attack on a Danish cartoonist who merely depicted Mohammad in one of his works. (57 minutes)
• The suicide of France and Germany — Muslim birthrates versus our birthrates. (1 hour 11 minutes)
• Not wanting a US-style economic collapse, China has outlawed financial "derivatives." (1 hour 22 minutes)
• The health care debate is rigged: the only choices we're offered are a criminal insurance cartel vs. the same criminal cartel with an equally-criminal Congress cut in on the action. (1 hour 35 minutes)
• The greatest danger to our liberty is maintaining our current wars of aggression in the Middle East. (1 hour 54 minutes)
• The "Underwear Bomber" is being used as a scare tactic — blown way out of proportion — to institute full body scans at airports. FOX News is using beautiful young women to promote the idea that we should prefer safety over privacy. After all, if a pretty young woman doesn't object to a full body scan, why should you? (2 hours 3 minutes)
• Could full body scans — which don't much enhance safety — really be a way to prevent people from taking their personal assets out of the country, as America goes down to economic disaster? (2 hours 6 minutes)
• Isn't it interesting that the Patriot Act and all of the bad legislation since 9/11/2001 have been focused on destroying our privacy — particularly our financial privacy — and destroying the 4th Amendment? (2 hours 9 minutes)
• Racial profiling at airports is an obvious way to stop Arab/Muslim terrorists while preserving maximum freedom and convenience for American travellers. (2 hours 11 minutes)
• Does the elite eventually plan to restrict air and private automobile travel to the rich only, in the name of "Gaia"? (2 hours 15 minutes)
• A Black rapist and killer in Shelby, NC was finally caught years after apparently raping and killing three elderly White women. This brings up the subject of the huge number of violent Black-on-White crimes: Ninety per cent. of interracial violent crime is Black-on-White, and there are over 2,500 such attacks every day — including 100 rapes. (2 hours 39 minutes)
• Is there a media effort to promote interracial sex and marriage? If so, the effort was dealt a blow by Tiger Woods' ghettoish behavior. (2 hours 52 minutes)
• Are more toxic substances being added to cigarettes to make them "self-extinguishing"? (3 hours 12 minutes)
• The capitalist/socialist conflict is as scripted and phony as are professional wrestling bouts. In reality, both sides are in collusion. (3 hours 22 minutes)
• The most important right is the right to be left alone. (3 hours 52 minutes)
• Will airline passengers soon be required to wear taser bracelets? Would you allow your wife or daughter to wear one? (4 hours 1 minute)
• Countries (like the United States) with laws against killing or torturing their own dissidents are contracting out the work — or "trading" it — with the "intelligence" agencies of other countries. The U.S. is taking part, which could be the beginning of a shadow world police state. (4 hours 5 minutes)
• The non-Whites in the United States overwhelmingly support the anti-freedom "change" agenda of Obama and, even if all immigration stopped tomorrow, their higher birthrates guarantee that European-Americans will never be able to use the ballot box to re-establish their traditional freedoms. (4 hours 29 minutes)
• The Canadian who dared to walk across downtown Detroit at night — and lived to tell about it. (4 hours 54 minutes)
• Consider the idea of the "re-wilding" of Middle America — the purposeful deindustrialization and emptying of non-elite-occupied areas of our country and returning them to prairie or forest. Is re-wilding a prelude to occupation by the probable new mortgage holders of that land, the Chinese? (5 hours 10 minutes)
And those aren't the only subjects — there's much more worth listening to, and thinking about, every week on the Liberty Net.
Thanks to N2IRJ and his low-noise receiving and recording setup, those of us who can't listen on Saturday nights at 10PM Eastern can listen anytime — or even download the file for listening on your personal mp3 player. Just click on the arrow to activate the streaming player, and then click anywhere on the progress bar to jump to any part of the recording. You can also right-click on the "download" link (which appears when you start the player) to save to your hard drive.
The recording is 5 hours 39 minutes long and about 116 MB in size. As usual, the recording starts a few minutes before the Net proper begins, showing that Net participants obtained the frequency legally. Check-ins begin at about the 13 minute mark, with discussions starting at around 33 minutes.
Listen to or download this week's Liberty Net"]