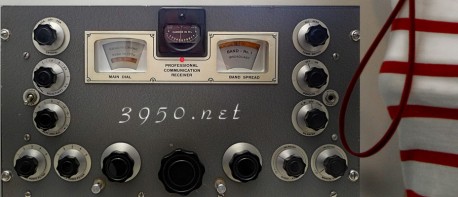 by Kevin Strom, WB4AIO
THE LIBERTY NET enjoyed good propagation and even more high-IQ debate and conversation than usual this week, and the uncensored ideas flowed freely in a way that you simply cannot experience in the corporate media.
Listen to or download the Liberty Net recorded August 21
Here's a tiny sampling of the topics covered this week on amateur radio's longest-running discussion net:
• Now that preparations are being made for starting a new war against yet another of Israel's enemies, this time Iran, the controlled media and the regime in Washington are suddenly acting as if the Iraq War is over. But that isn't true: The violence, terror, heartbreak, and death — both for the deluded American cannon fodder and the innocent Iraqis — is adding up more than ever. (28 minutes)
• The brouhaha over the "ground zero mosque" (a phrase the media have been asked not to use) misses the point: There should be no Middle Eastern immigration to the U.S. and never should have been; then the question of mosques would never come up. (23 minutes)
• Neocon operative John Bolton said four days ago that Israel had just "three days to bomb Iran" (because Iran had built a nuclear power plant similar to the perfectly peaceful one a few miles from here in Virginia). It's good to see that at least the most insane of the warmongers don't always get their way. (9 minutes)
• The North Korean government is reported to be behind a flood of flawless counterfeit $100 bills. Are the North Korean bills any more counterfeit than the money created by the Fed and the commercial banking system? (10 minutes)
• As America turns into a Third World country, we are also experiencing a resurgence of Third World infestations of a non-human kind. For example, bedbugs have started to become common again in New York City, with the latest outbreak taking place in the Empire State Building. (32 minutes)
• The media have almost stopped reporting bank failures, probably in order to give the impression that "things have settled down," but the truth is that banks continue to fail at an accelerated rate — four in this week alone. (49 minutes)
• There is a grisly trade in human body parts taking place in Obama's home country of Kenya — the organs and limbs of albinos are believed to have magical powers, and an enterprising witch doctor there can make a quarter million dollars on each body. The thriving trade, which involves the abduction and murder of the victims, is technically illegal. (1 hour 22 minutes)
• The push to build a mosque near the twin towers site is being promoted by the same people who made sure that 9/11 happened — and, surprise surprise, those people are not Muslims or Arabs, though their ancestry is Middle Eastern. (1 hour 30 minutes)
•  Since Obama cannot legally be President (on numerous indisputable legal grounds besides his citizenship), none of the acts he signs can possibly be law and cannot — indeed, must not — be regarded as such by citizens, soldiers, or judges. It didn't start with Obama, though — the same is true of all of the edicts of the regime in Washington going back many decades.  (2 hours 1 minute)
The Liberty Net is amateur radio's longest-running current events net, beginning in 1974 — with Net Control station W1WCR at the helm then as today.
You can listen and chat live while the Net is on the air (at 10 PM Eastern Time every Saturday night on or within 10 kHz or so of 3950 kHz) via N2SAG, N2IRJ, and other stations who link their streaming audio at stickam.com. If you have an amateur radio license, feel free to check in. And, as always, you can download the latest mp3 recording of the Net right here at https://3950.net and listen at your leisure.
Listen to or download the Liberty Net recorded August 21