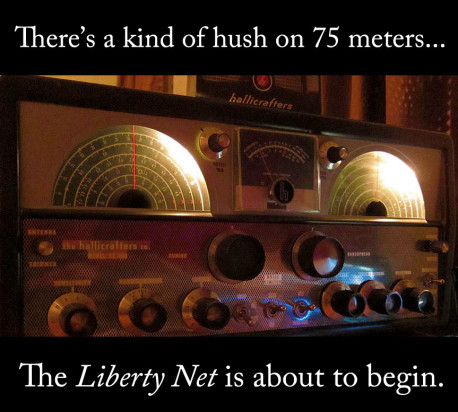 by Kevin Strom, WB4AIO
NOW THAT Standard Time is in force across the US, propagation for the Liberty Net should be continent-wide even at the start of the net — so Western stations, try checking in this week!
Listen: Liberty Net 10/26″]
Here's a small selection of the many ideas debated on the net this time:
• The people running "Obamacare" now promise that, really for sure, their Web site will be running by late November. Are you absolutely certain that these are the people in whom you want to entrust your life? (11 minutes)
• With the ever-lower cost of USB hard drives, there's no reason not to make rolling backups of all your computer's data and protect yourself from hard drive failure, fire, and thieves. (25 minutes)
• The regime's "Homeland Security" agency is spending $80 million to harden federal buildings against anticipated food stamp riots. (42 minutes)
• Why is there no media outrage about the continuing onslaught of "Black youths" murdering weak, elderly, or disabled Whites? (57 minutes)
• It's totally unconstitutional for the regime in Washington to prevent intelligent men and women from doing their own research and choosing their own medications. (1 hour 19 minutes)
• The Chinese government reportedly paid a hack writer, Gavin Menzies, one million dollars to produce a book claiming that Chinese explorers discovered North America before Columbus. Evidently neither the Chinese nor their employee want to talk about the Solutreans — Europeans who a growing number of scientists believe were in America long before the ancestors of the Amerindians crossed the Bering land bridge. (1 hour 30 minutes)
• The Amish don't vaccinate their children. And their children also don't get autism. (1 hour 55 minutes)
• Any pension held by banks or related financial institutions is likely to be looted eventually. Build up enough assets to assure your financial freedom in forms that cannot and will not be listed in bank or government databases. (2 hours 1 minute)
Remember that you can receive the Liberty Net on an open frequency around — usually well above — 3950 kHz every Saturday night at 10PM Eastern Time. You can also listen live on the Internet or listen at your leisure via the mp3 files posted right here at https://3950.net every week. And don't forget the Midweek Liberty Net on Wednesdays at nine and the Survival Net on Sundays at nine.
The complete net recording is posted at the very top of the right column (under "Liberty Net Audio") here on https://3950.net — usually on the Sunday immediately following the net, so look for it there if you'd like to listen or download after the net has signed off. The new articles and summaries (like this one, found in the center column) show up around a week later.
Once again, thanks to W1WCR and all participants for making this extraordinary net possible — and please check in!
Listen: Liberty Net 10/26″]