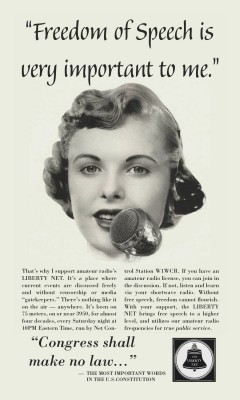 by Kevin Strom, WB4AIO
THE LIBERTY NET is the most exciting — and one of the most venerable — nets on the amateur radio bands today.
Emceed by published author Vic Misek, W1WCR, it's on the air every Saturday night at 10PM Eastern Time on or around 3950 kHz SSB — usually within 10 kHz.
Propagation was generally good this week, and jamming was absent (though Summer static was a bit of a problem), making for excellent dialogue and information sharing.
Listen to or download the Liberty Net recorded July 10
Here are a few of the subjects discussed on this week's net:
• What should the American attitude be to Muslims? Should we be friendly to those who mind their own business and stay in their home nations, while firmly resisting any Muslim migration to the US? Or should we do as we are now doing, and happily welcome Muslim invaders to our shores — while making unremitting war on the innocent Muslims who stay at home in their own countries? (18 minutes)